Your condo's choice of finishes
The icing on the cake? You get to pick the finishes for your condo! Not everyone is an interior designer, so we've put together a few tips to help you select what's right for you.
The choice of finishes
Every condo project offers co-owners a selection of unique finishes to personalize their home. This includes flooring, cabinets, countertops, and ceramic tiles. The choice of colours and finishes is carefully selected by professional designers and reflects the look and style of the project.
Stop by the sales office
Get an up-close and personal look at all the finishes available for your condo at our sales office. It's the perfect opportunity to see the demos on site and mix and match the samples to create your custom combinations.
Get inspired
The sales office features five kitchen layouts and four bathroom layouts to give you a better idea of what your finished condo will look like. You can also flip through décor magazines, browse Pinterest, and ask your design-savvy friends for ideas on how to decorate to match the finishes you choose. Our designers are always on hand if you need some expert advice.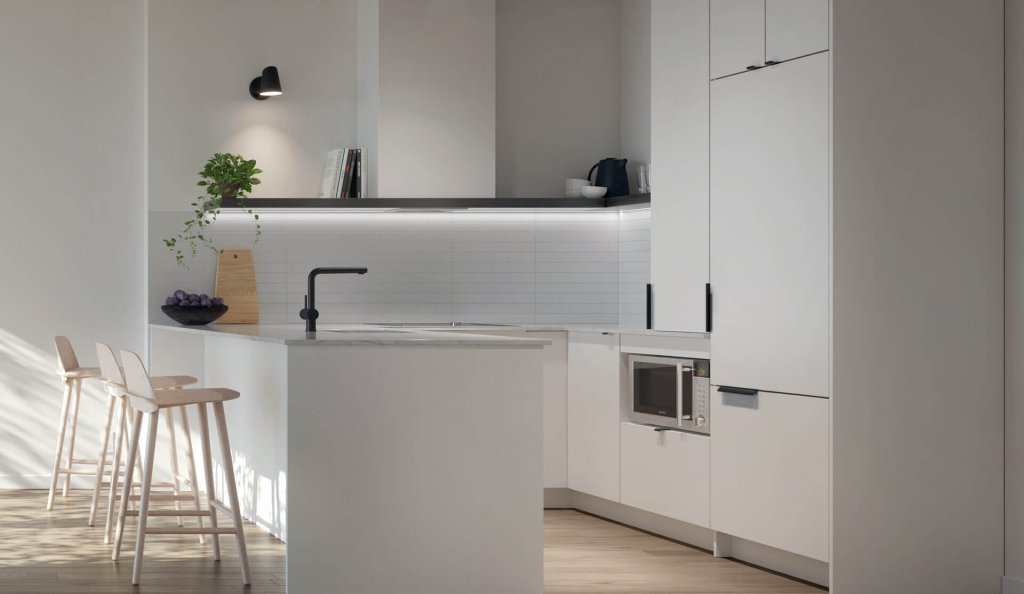 Think long-term and resale value
Giving a room a fresh look with a coat of paint is easy—but that's not the case when it comes to wood floors and tiling. It's best to keep this in mind when selecting which finishes you want for your condo. Trends change with time, and simple goes a long way when it comes to selling your condo down the line. If you'd like to go bold, invest in fun accessories and paint colours and keep the background neutral enough to adapt to new trends.
Meet with our finishes coordinator
To give you a better idea of how your completed condo will look, you'll meet twice with our expert finishes coordinator. Together you'll go over the architecture, kitchen, and electrical plans to determine where you want your outlets and switches located. You'll also sit down together to select what finishes you'd like for your new home. It's good to have at least a rough idea of your furniture layout to determine what walls need to be reinforced for things like wall shelving or a bike rack.
The final OK
Shortly after your meeting with our finishes coordinator, you'll receive an email summary of your selections as well as any modifications you requested for final approval. Keep in mind that the approval date to submit your final OK must be respected in order for us to deliver your completed condo on time. Once you sign and return this document, your file will be sent to our construction team, who will ensure that your personalized space is ready for you as soon as possible.